Arab Steed Hotel
241 Hutt Street, Adelaide, South Australia, 5000
Dining
Gaming
Your local pub - you can get it all at 'The Arab'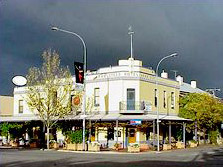 The Arab Steed Hotel is one of Adelaide's oldest licensed hotels having been established in 1849 and Shayne & Jill White have been continuing the tradition of great hospitality since 1987.
With a pub bistro serving Lunch 12 – 3 Dinner 6 – 9 & great wine list with over 20 wines by the glass & 9 beers on tap.
We have Tab & Sky channel & a spacious 20 machine gaming room.
Hutt Street Cellars is located next door to "the arab" with weekly Sip n Save specials & a fantastic range of small winery & boutique wines.
Contact us:
241 Hutt Street Adelaide, South Australia, 5000
Phone: 08 8223 1015
Fax: 08 8223 3011
Email: mark@huttstreetcellars.com.au
Web: www.arabsteedhotel.com.au