Search for Hotels
sahotels.com.au News
My Pub: Arab Steed
In May this year Shayne and Jill White will notch up their 28th year at the helm of the Arab Steed.
Tucked away in the southeastern corner of the city, the Arab is a pub that has stood the test of time and it's owners put it down to knowing their place.
"You are what you are and we don't pretend to be anything we're not," says Jill.
'There is a place for what we are, which is a traditional, comfortable hotel.'
Although the establishment was built on strong foundations in 1849 when it first opened, the fundamental basis of their success has been their commitment to food and good service.
The Arab is one of the few pubs that has been able to achieve regular business without completely revolutionising their menu.
While it features favourites it is constantly being tweaked to keep to keep it fresh and up to date. It has been a long journey for the Whites from where they began.
"When we arrived in 1987 the Hotel was not doing any food, so there was only one way for it to go," says Jill.
"So we immediately introduced food. There wasn't even a commercial kitchen here."
"And they were the days when you had a very strong food trade due to lack of competition. There was only one cafe in Rundle St and Hutt St did not have any at all, so that's where the food trade really began and it was very good in the early days and still is."
"We've been known for consistent, good quality food over the years and that is what brings people in."
Despite being known as one of the city's favourite dining hotels, Jill is quick to reiterate that with good food must come good service.
"Service is our number one priority and it has been since the day we opened the doors," she says.
"You can have the best food in the world, the best renovation in the world, but if you do not have consistently good service, people will not come back."
While commitment to quality and service remain unchanged, the hotel itself has undergone regular updates beginning on their arrival in 1987.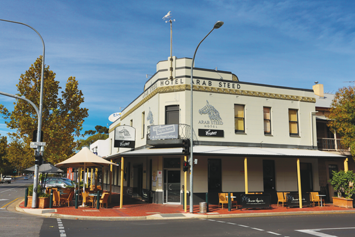 Recently they have done a major renovation of the bottle shop, Hutt St Cellars, which comes off the back of a sizeable overhaul of the hotel interior four years ago.
While big chains like Dan Murphy's, and BWS have dominated the market in recent years, the plan for Hutt St Cellars is to tap into a niche market.
"We sell a lot of wine here," says Shayne."
"So with our bottle shop we're really trying to be a point of difference. We're not a chain and our service in the bottle shop is of a high standard. Mark the manager has been with us for 13 years. Sean and Sam have also been with us for a long time.
They have a wealth of knowledge between them."
Another point of difference which the Arab is famous for is their traditional and comfortable appeal, something Shayne believes sets them apart from other city hotels.
"Number one we are family owned and we are here. There aren't many places you can walk into anymore and see the publican, there's always a family member here," he says.
"Our attraction is we're a comfortable place that you can get a good feed and good service."
"The day may well come that a big change is needed but for now we don't feel the need to change a lot, we build and tweak as we go along and that's what works for us.
One issue they do face on a regular basis at their Hutt St location is parking.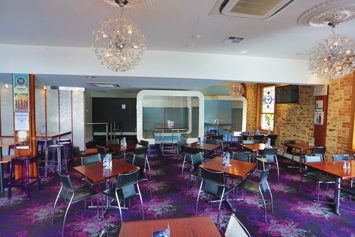 With the street expanding over the years with new businesses and apartments buildings moving in, finding a place to park has become increasingly difficult.
The impact of this is most felt in the bottle shop and gaming room where finding a park is a necessity for customers and it is easy for them to drive to the next pub if they cannot find one.
Despite this, Jill and Shayne are optimistic about the future of their beloved hotel and are confident they have a loyal customer base.
"We've identified that we need to market to customers who live in apartments nearby, says Jill."
"Customers that do not mind walking or even riding their bike, rather than trying to attract people that have to find a car park."
"Hutt St has taken a long time to mature, it has been quite slow, but in the last 5-10 years it has developed into a cosmopolitan street with a wonderful village atmosphere."
"The residential move into the city is something that has changed as well and we are adapting to that."
---
A STIRLING PERFORMANCE IN THE ADELAIDE HILLS
The Stirling Hotel in the Adelaide Hills has been awarded the honour of being named South Australia's Best Overall Hotel in 2015 at this year's AHA|SA Hotel Industry Awards for Excellence.
Since its renovation in 2008, The Stirling Hotel has taken out a total of nine awards across all of its major departments, including its accommodation, bistro, retail outlet, functions and restaurant. This year is no exception, with The Stirling Hotel winning the category of Best Restaurant (joint winner with 2KW).
"The Stirling Hotel has proven yet again that they are well ahead of the game in terms of presentation, innovation,
food, beverage and service excellence," said AHA|SA General Manager Ian Horne.
"The Stirling Hotel is constantly evolving to suit the needs of the consumer. An outstanding and very popular venue with a very high standard across all of its major facets, it is a clear standout and very worthy of this important recognition".
"Whether it is a casual meal of pizza from the pizza oven in the bistro, or an 8 course degustation in The Grill restaurant, you can be confident you will receive a great experience, every time."
This year saw the introduction of a new category for Best Small Venue, which acknowledges the quality and popularity of this growing venue type. Clever Little Tailor on Peel Street has won this award, being recognized for its stylish interiors and charming atmosphere, knowledgeable and friendly bar staff, and impressive range of wines, beer and spirits.
It was a successful night for the RD Jones Group with their recently redeveloped hotels, The Moseley and The Gully Public House & Garden, both winning multiple awards. Highlighting the value in being progressive and evolving to meet changing customer needs, these venues are stunning examples of contemporary venues which take advantage of their surrounding environments.
But it's not only just the newest most contemporary venues that were acknowledged at tonight's awards. The 150 year old Victoria Hotel in Strathalbyn has taken out the award for the Best Bistro Causal Dining – Country. The judges were impressed with the large menu choice and use of many local products, and also its outstanding customer service. Steeped in history and charm, the Victoria Hotel embodies all that is great about country pubs and hospitality.
The 2015 AHA|SA Hotel Industry Awards for Excellence was held on Tuesday, July 28, in The Arena, at the Adelaide Entertainment Centre. Over 800 people attended this premier industry event, with entertainment provided by Anthony Callea, and hosted by Hamish McLachlan. All winners from the AHA|SA Awards will now go on to compete in the National AHA Awards to be held in Brisbane on September 14, 2015.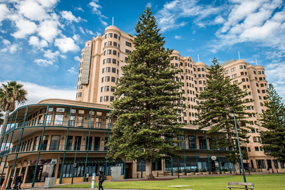 It's an icon of the Adelaide Beachfront and has now been renewed and revamped with an investment which shows strong intent for the future. Adelaide, meet the new and improved Stamford Grand.
Click Here.